"A new book swapping high expectations of parenting with the messy, imperfect, and sometimes exasperating realities associated with mothering."
— Publishers Weekly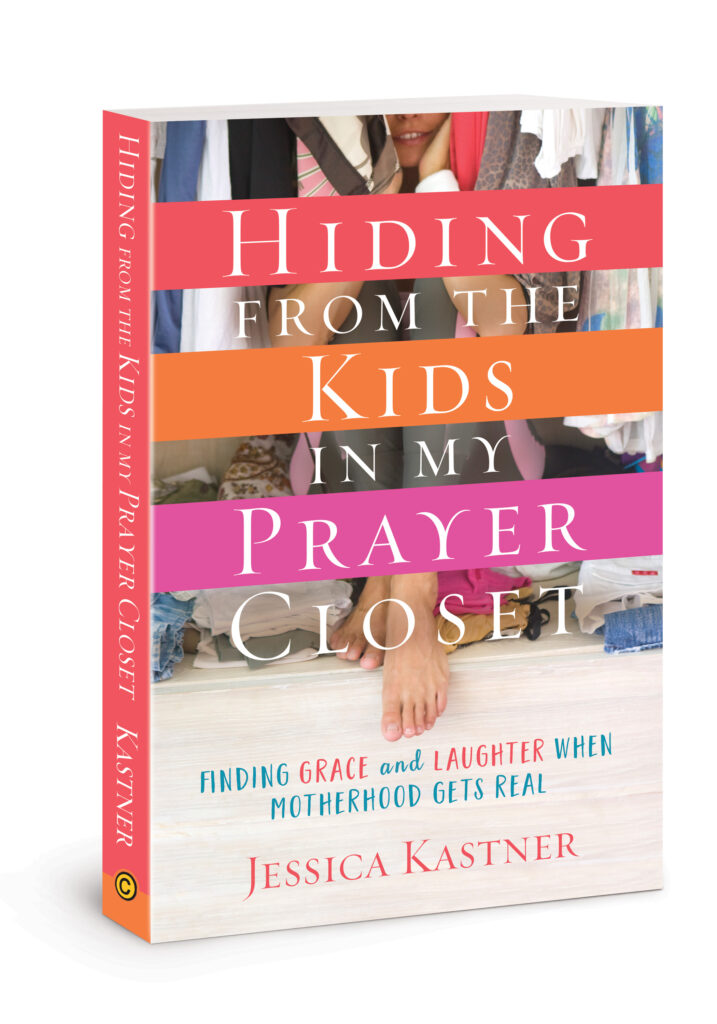 Musings on Motherhood and Other Near Disasters…
Learn how to enjoy the mother you are in this hilarious, gritty, and crazy journey of motherhood.
Soon after Jessica Kastner became a mother, she wondered if she was the only mom who found pretend play more boring than watching playdough harden and who dreaded yet another friend's Instagram post of homemade deliciousness.
In Hiding from My Kids in the Prayer Closet, Kastner shares her experience as an "un-mom"—a mom who loves her kids more than she loves the daily experience of mothering. She helps readers laugh at the ridiculous, delight in the unpredictable, and enjoy being the mothers God made them to be.
Hiding from My Kids in the Prayer Closet helps readers learn:
Reasons to celebrate, if you too, are an "un-mom"
How to own your mothering style
How to survive encounters like awkward playdates, Cub Scout commitments, and other unexpected "opportunities" for grace, motherhood brings
Why self-sacrifice is eminent, but worth it
How to stay sane through the most trying times of motherhood
Things we learn about God, through having kids
Endorsements…
"Through hysterical retelling of her real life parenting adventures, Kastner sheds light on the common struggles of raising children and assures readers that God has all of the seemingly impossible messes under control. Kastner's honest and comforting message reminds us that no one is perfect, and God doesn't expect us to be. An inspiring book for all Christian parents doing the best they can!" — Simple Grace magazine
Loving Hiding from the Kids in My Prayer Closet—a super fun mommy-manifesto that's relatable and encouraging. I appreciate Jessica Kastner's way of running all the parenting adventures through a comforting sift of grace. If you ever struggle with feeling you're a less-than-perfect mom (and come on, don't we all), oh girl, this book! —Rhonda Rhea, TV personality and author of 12 books, including Fix-Her-Upper and the novel, Turtles in the Road
"Hiding from the Kids in My Prayer Closet" embodies the famous quote "comparison is the thief of joy." Instead of focusing on failure, Kastner wants moms to transfer that energy into finding happiness in their own messy, imperfect ways. Kastner's tales of imperfect, faith-based motherhood will resonate with moms who feel they don't always succeed at "mothering" but love the path God has put them on anyway
—Angelia White, Publisher Hope for Women magazine
"In this era when we're constantly told to BE more and DO more, we need voices like Jessica's to remind us that we can do less and laugh more instead. With humor and truth, she reminds us to lean on God as we navigate the hard parts of motherhood, even when we feel like the job does NOT come naturally!"
— Jamie C. Martin, co-founder of SimpleHomeschool.net and author of Give Your Child the World